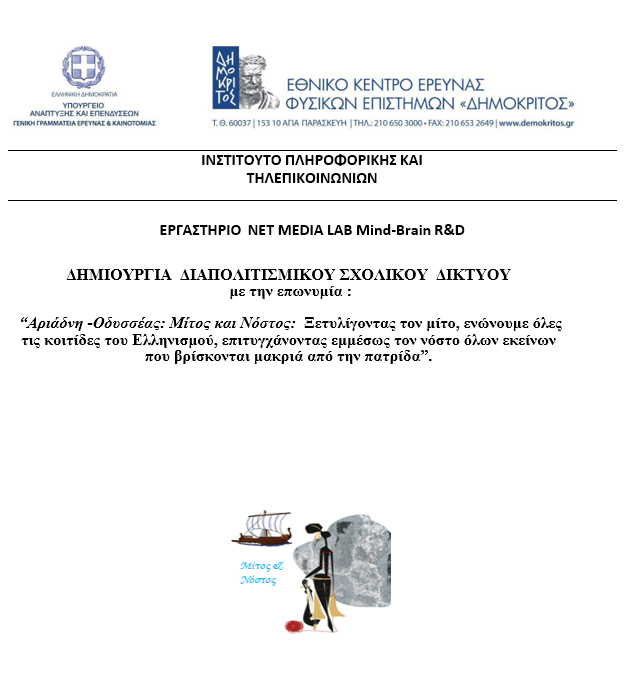 Net Media Lab created an Intercultural School Network with the aim of promoting intercultural communication to schools from Greece and the Greek communities and the promotion of Digital Skills, Educational Robotics, Coding, Emotional and Social Skills, as well as all the other skills from the 21st Century Skills umbrella, under the name: "Ariadne – Odysseus: Mitos and Nostos: Unwinding the Mitos, we unite all the cradles of Hellenism, indirectly achieving the nostalgia of all those who are far from home".
The network will initially involve the following schools:
Alexandria, Egypt : Averofion High School and Tositaio – Pratsikio Primary School,
Cairo, Egypt: Achillopouleion School, Ampetios School
Zographion High School of Constantinople, Turkey
Hellenic School of Imvros, Turkey
Limassol Cyprus
Isthmia of Corinth Primary School
11th Amarousio Primary School
Subsequently, the school network aims to expand throughout the Greek region and to other schools in remote Greek communities.
The ultimate goal of the action is to create a bridge of communication between Greek students in Greece and the communities for the development of friendship relations, as a climate of cooperation and interaction is cultivated and the students and teachers involved "develop" and cultivate among themselves the common feeling of a bond of Greek strength and common ancestry despite the kilometric distance.